I managed to get off work early and flew up the A12 in no time at all, then it took me about twenty minutes to move a mile so was late picking Rich up. An hour later and way behind schedule we met the Purple Princess then pointed the car north through the Suffolk countryside and headed to High Lodge. The traffic near the venue was crawling but we expected little else.
By 1930 we were in the arena, actually a bowl amidst the trees of Thetford forest, chewing on a burger and supping a beer. The burger was very good but the beer was indifferent, like brown lager. This was my first visit to this arena and it really is a lovely setting. Looking around the crowd gave me cause for concern though, I'm used to being one of the oldest people at a gig but today we were definitely in the younger half. The last time I was in a crowd of this age the atmosphere reflected it. Also as much as I admire Mr Weller I feel no compulsion to try and look like him. There were literally dozens of impersonators who all seemed a bit sad really, one actually looked more like Jimmy Saville...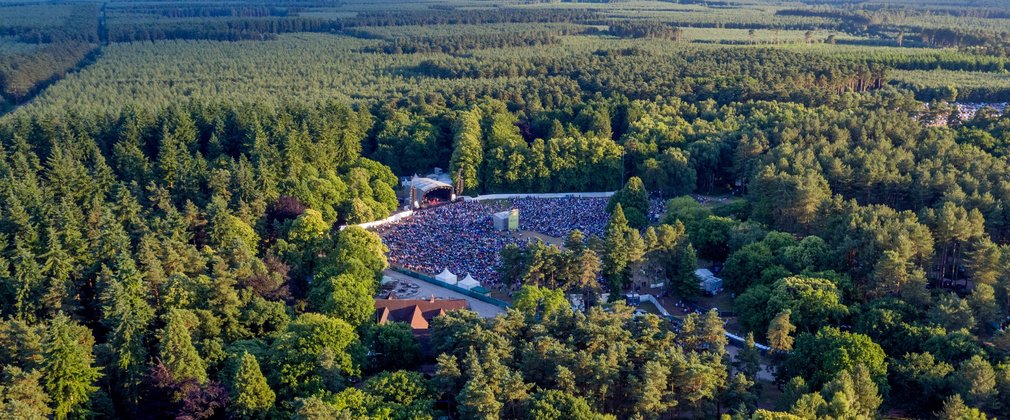 Support band was 'Stone Foundation' who we'd seen before a few years ago when they blew the roof off a small tent at Latitude. Today they were OK, professional and entertaining but didn't get us moving as they had before.
Paul Weller came on stage around 2040 and the set started in a low key manner with "I'm where I should be" followed by "My ever changing moods" and "Long time". Three songs in and everything was a bit flat, the sound was poor with the bass swamping everything and the crowd wasn't really getting swept up in it. There was a group of pissed dickheads behind us offering 'advice'. Rich looked at me and said "That's what happens when cousins marry..."
The sound improved for through the next few numbers and "Wild wood" followed by "That's entertainment" finally got the crowd properly engaged. From there the gig just got better and better and better, as did the atmosphere. Mr Weller doesn't talk much on stage he just concentrates on playing, tune after tune, all familiar faves; "Can you heal us ?", "The Princess' fave "You do something to me" and my all time Weller favourite "Hung up". The regular set finished with "Peacock suit" by which time the sky was almost dark and the crowd was roaring for more.
The band returned for two lengthy encores and we tried to guess what they would play. We could never have predicted a cover of "Curtis Mayfield's "Move on up" but it was brilliant! Final tune of the night was "Town called Malice" which brought the show to a close almost two hours after Weller had first taken to the stage. After the slow start we were now totally Wellered and didn't want the show to end. Would he come back for "Changing man" or "Eton Rifles"? No.
The Princess and I saw Weller a few years ago and he was brilliant. This time he played a very different set with fewer Jam songs and more by the Style Council. He also has less energy than he did then but he's passed sixty now and is probably fitter than me. It was an excellent show in a nice venue and I'd very much like to experience both again some time.
Match Twenty Seven.
Earlier in the day I'd struggled to follow the cricket at work but when I saw Sri Lanka had been restricted to 232 I felt confident England would overhaul this with ease. Even with a couple of early wickets going down I could only see one result. When I got home from the gig and switched on my phone I was shocked to see England had found a way to lose! This armchair fanatic is wondering if the damage was done when Alex Hales was omitted from the squad? James Vince has not contributed. All of a sudden the nailed on favourites are looking anything but and we have three very tough matches to come, next up the bloody Aussies. Since then we've had a couple of good matches with Afghanistan almost embarrassing India but not quite and New Zealand winning a close game against the West Indies. As I type Pakistan are on the verge of eliminating the Saffers. Perhaps there's a surprise or two left in this world cup? Hopefully not nasty ones for an England fan.